Distinguish yourself with knowledge, expertise, and get a clear career advantage – become a CTEP® Charterholder. CTEP® Chartered Trust & Estate Planner is the globally recognized credential for professionals advising on Wills, Trusts, Estate Planning, Succession Planning & Inheritance Planning.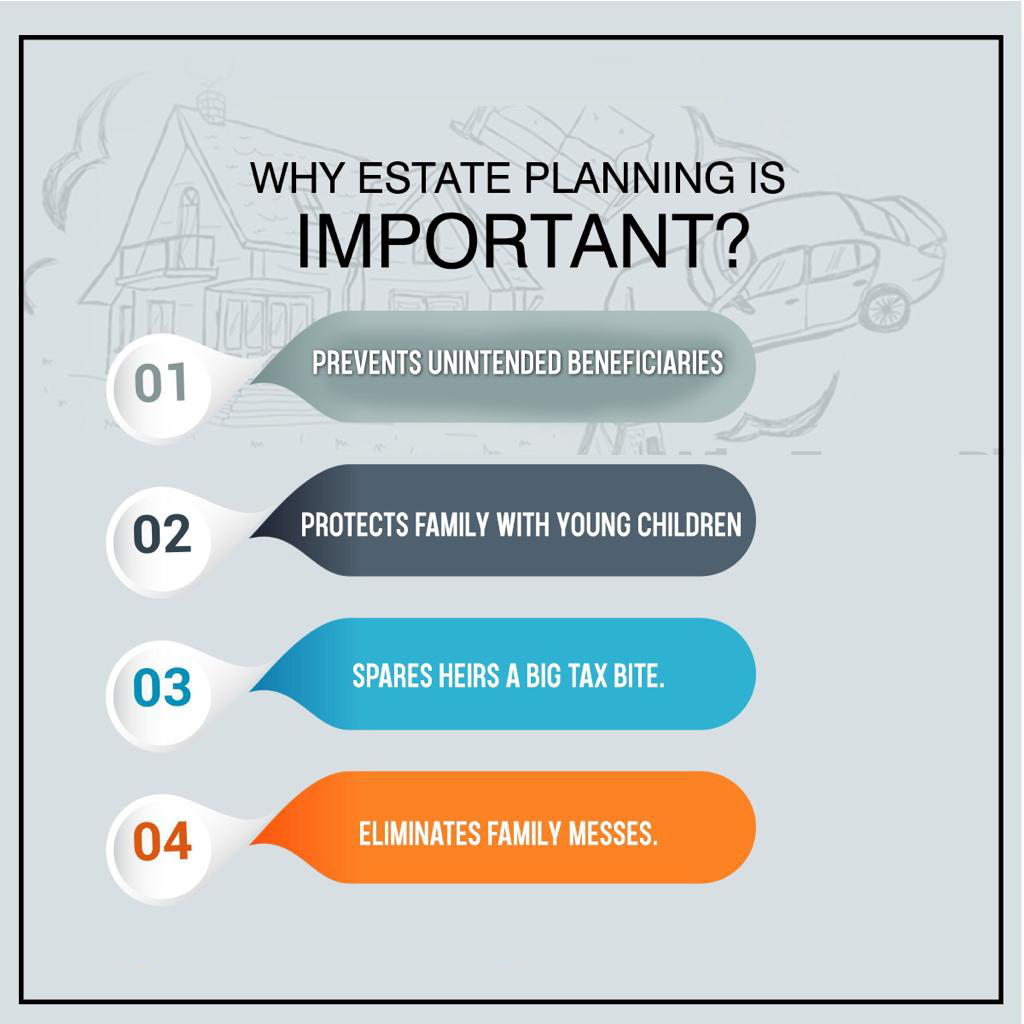 CHARTERED TRUST & ESTATE PLANNERTM (CTEPTM) is unique and the only Trust Planning certification in India.
This certification comprehensively deals with all the aspects of Estate Planning and Trust Planning like Asset Protection, Intergenerational Wealth Transfer, Succession Planning, Creation of Trusts, Trust Management, International Trust Structures, Philanthropic Planning, Cross Border Estate Planning, Maintenance of Dependents and Estate Tax Planning Issues Globally. The participants get in depth view of Wills, Power of Attorneys and Succession Laws etc.
This certification enables the candidates to meet the current skill set needed by the industry and stand out of the crowd.
Areas of Learning Include:
Advise on the different types of wealth that may be transferred
Deepen relationships with high net worth clients and become a partner in planning
Consult on taxation and estate planning strategies
Advise on the roles of Wills, Powers of Attorney, Living Wills and Probate in a wealth transfer plan provide succession planning for small business and identify the appropriate solution for each unique situation
Learn more about Trusts, Estate Planning Process, Estate Planning Products, Tax Planning through Trusts etc.
Understand the various Wealth Transfer Techniques
Drive the Set-Up of the Estate Planning advisory in Private Banking and Wealth Management Domains.
Start Catering to HNI & UHNI Clients along with your existing clientele on Estate Planning.
Understanding the environment in which wealth management and advanced financial planning operates focusing on the range of products that may be used to develop a client's intergenerational wealth transfer plan.
In-depth knowledge of international Wealth Management, Financial Advisory and Estate Tax Planning that reflects the cross-border connections and wealth transfer alternatives available to wealth owners
Providing advisory support to clients on trust planning, business succession planning, estate tax planning.
Issues like how to create estate plans for minors, handicapped and other special situations.
Philanthropy and Charitable Planning.
Developing higher level skills in Estate Planning, Trust Formation, Succession Planning, Family Governance Structure and interpretation of family dynamics for effective succession-planning.
Building estate planning proposition for consumer banking domain and creating an estate planning platform for estate advisory services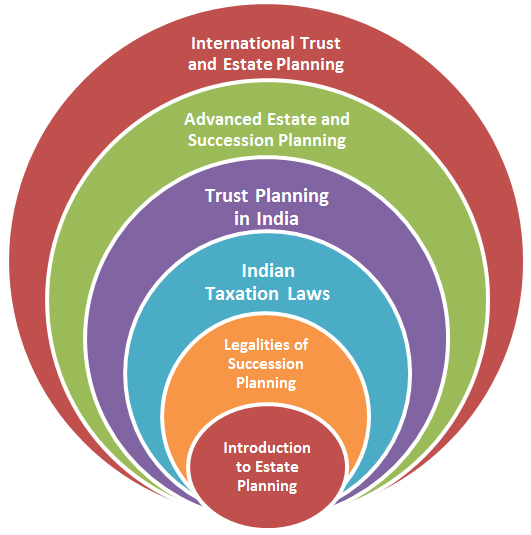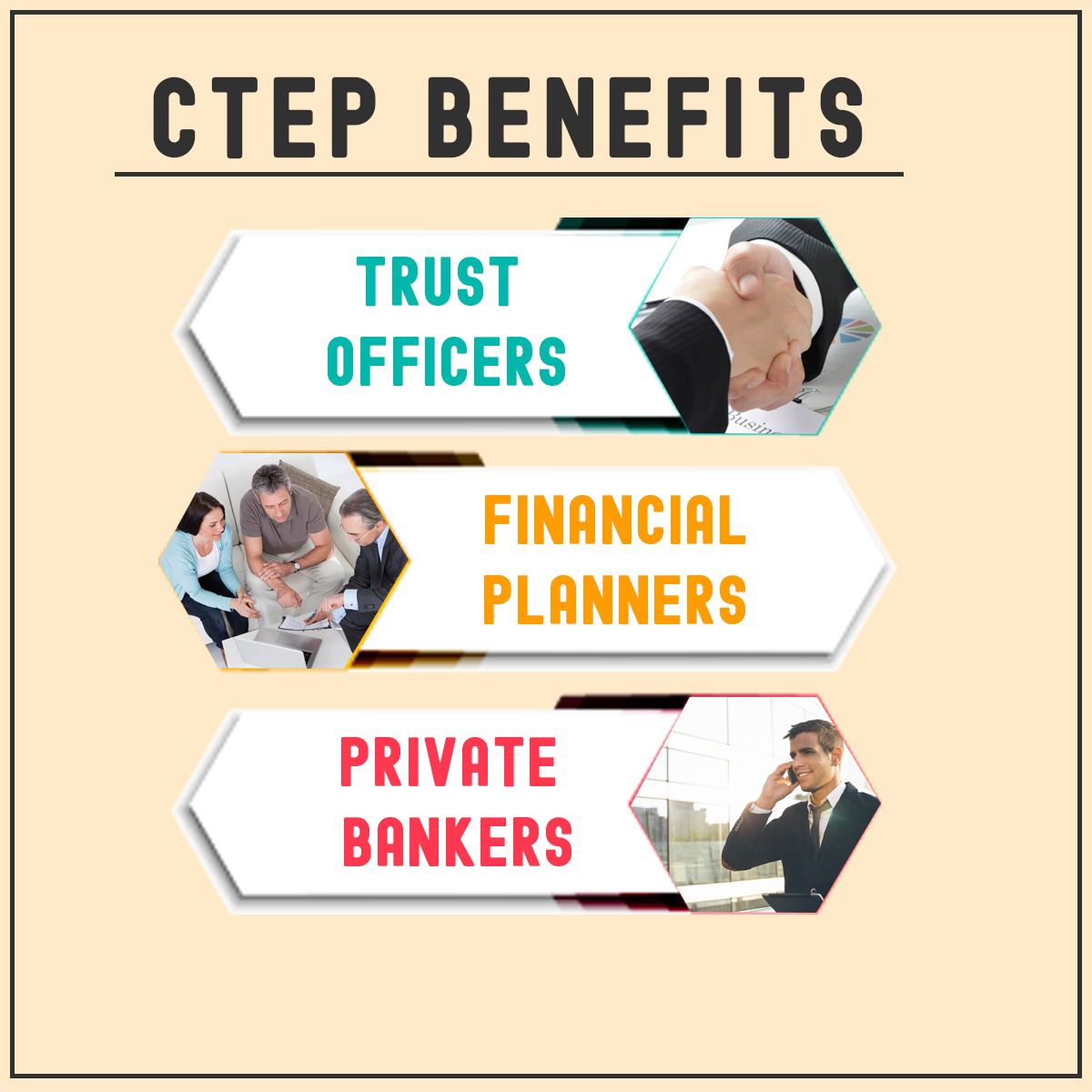 Who Should Pursue?
Financial Advisors, Wealth Managers, Attorneys, Private Bankers, Relationship Managers
People from Banks, NBFCs, Broking houses, Mutual Funds, Insurance and Distribution houses.
Suitable for all those with a finance background who wish to move into Wealth Management business
Product Heads and Managers who wish to learn or reinforce all the technical aspects of the business
Business Heads from Banks, Mutual Fund Houses, Distribution, Wealth Management, Family Office, Advisory firms etc.
Existing Relationship Managers in Wealth Management/Private Banking who wish to cement their knowledge and achieve a professionally recognized International certification
Independent Advisors who manage HNI clients and wish to enhance their technical skills
Students undergoing their undergraduate or post-graduation course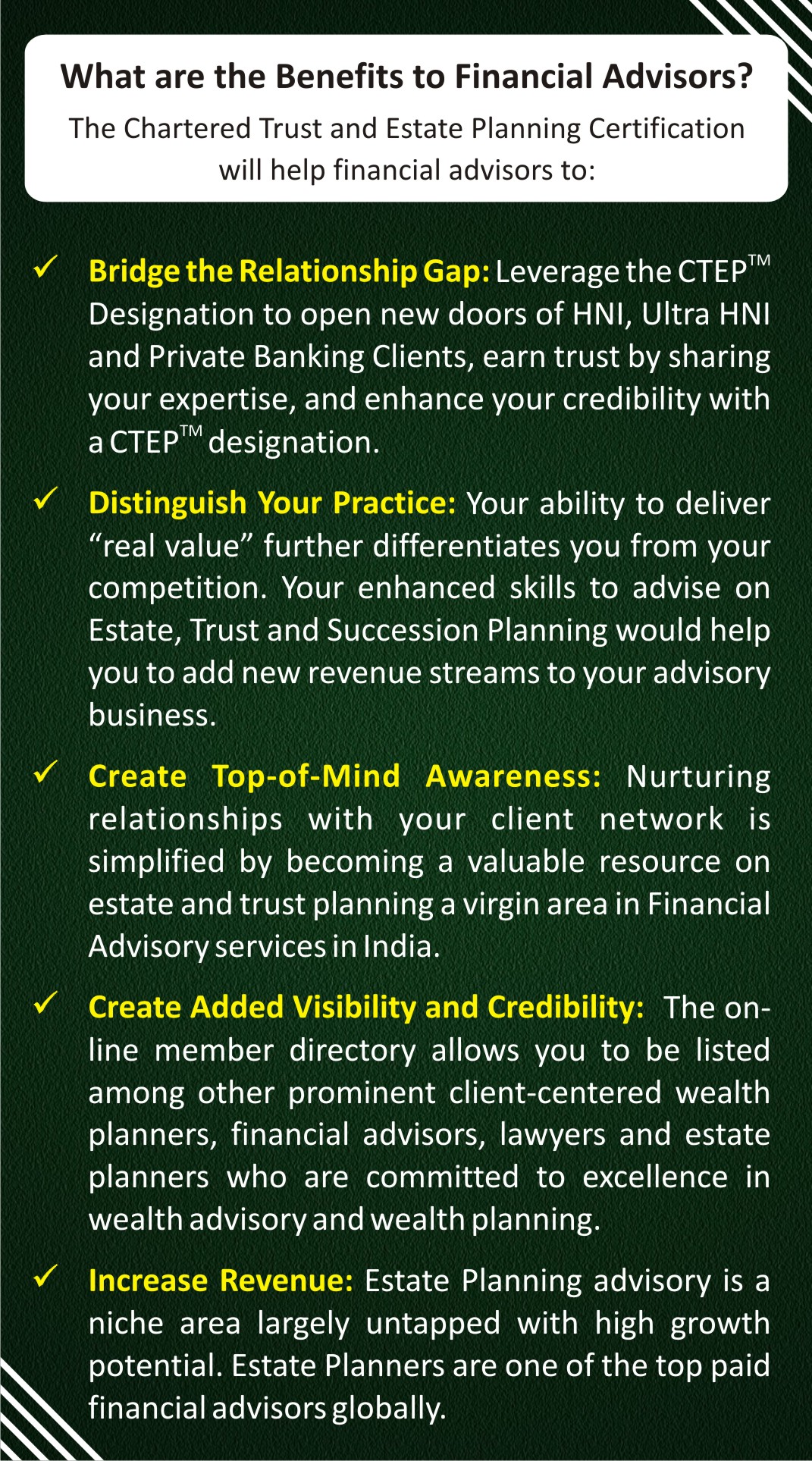 What are the Entry Requirements?
12th pass, however certification will be provided on graduation
Graduates with recognized degrees / diplomas in Finance, Accounting, Economics or Business, etc.