Become our Channel Partner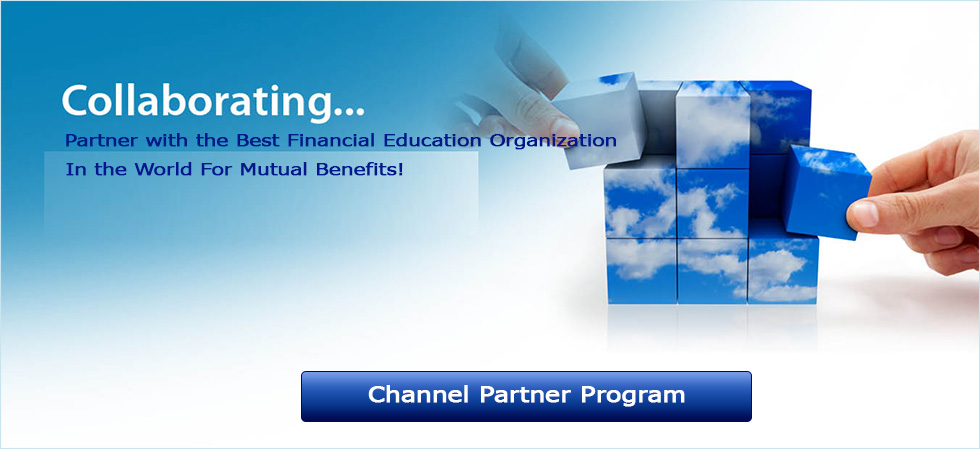 Are you an Educational Institute, Professor, Entrepreneur or Educational Counsellor / Agent? Earn 100% Profits at 0% Risk!
AAFM Channel Partner/Business Associate Program
Boost your income with huge profits
Strengthen your credibility
Add value to your business without any start-up, overhead costs
Become our Associate
Become an Associate Now & Increase your Revenue
A look into AAFM® Channel Partner Program
AAFM's® Channel Partner Association Program is especially designed to help people from educational and corporate sector in boosting their income and increasing their credibility. AAFM® is a renowned Global name in financial education with presence in 151+Countries and over 300000 Certificants Globally which is committed to make quality education available to everyone regardless of their geographical location and age limit. AAFM India aims to be the most preferred knowledge partner to the Wealth Management and allied sectors in the financial services industry. As a channel partner, you can assist AAFM in its endeavour to meet the human resource development needs of the industry by devising education and training solutions for working professionals, students and financial services industry.
As a Channel Partner you will generate admissions/registrations for our various certifications offered in class-room as well as self- study mode of learning .The target audience will be working professionals, fresh students looking for a career in financial services industry and graduates. We always welcome people who could help us in spreading our mission. At the moment our Channel Partners come from educational institutes, small and medium-sized business and academic consultants. You can also become our Channel Partner. Just send in your information via our application form and we will assist you. You can also call us to discuss your requirements with us.
Who are usually our Channel Partners?
Educational Institutes
Educational Agent or Consultant
Trainers, Professors, Lecturer's
AAFM® Channel Partner Association Program is a great way to expand your income and increase your authenticity. As an associate you get the opportunity to bring as many students to the AAFM® as you want and earn accordingly. It is indeed important to have educated employees in today's world. There are many organization where employees, to fortify position and excel in career, seek permission from the authorities to continue with their education. With AAFM® Channel Partner Association Membership program you can facilitate employees of a corporate to get skilled in companies own premises or off site premises.
Advantages of AAFM® Channel Partner Association
Earn huge profits
Zero overhead Costs and increase profits
Have complete control over client's database
No additional costs
No contract fee, set-up fees or monthly minimums
No cancellation fees at the time of withdrawing from your membership
with us
Manage account of your clients' and students' through our easy account
management process
Contact our Associate Program Manager anytime of the day.
Achieving Success
Success of potential Channel Partner lies in his ability to tap the vast and still untapped education needs in the financial services industry in India. There are numerous professionals working full time or part time, self- employed in the industry working without any formal education in the financial services industry.. These professionals want to upgrade their skill and knowledge, you would act as a bridge between them and our reputed academy of various finance professional certifications. AAFM being the pioneer of finance professional certifications in India provides the channel partner a unique platform to achieve success.
Support from AAFM
On selection, you enter into an agreement with us by signing a Memorandum of Understanding. After singing the MoU, we organize a telecon, web conference or personal meeting if convenient for the Channel Partner. You are provided with the promotional material to perform the required services. Our Managers, time-to-time, also provide training and guidance to the Sales force, counselors and Channel Partners to help generate admissions. We also provide other sales support if required such as making presentations to corporates in your area.
How Do I Become a Channel Partner Member?
Interested Applicants may submit the EOI by mail @ admissions@aafm.co.in with the Subject Line as 'EOI for Association as a Channel Partner along with their resume, latest photograph and the Association Form(attached herewith) duly signed. If your application is shortlisted, we will send your complete business proposal. Initial association will be for a period of one year which can be renewed on the basis of performance.
The complete process is very simple. Below we have listed the details for your understanding: